Chaos to Clarity Accelerator
Quickly Nail Product-Market Fit and Get to Scale.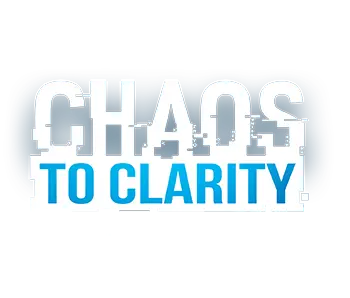 Every early growth stage startup founder has one core mission:
Get to Product-Market Fit.
Our startup accelerator will give you the systems, frameworks, tools, training, and support to nail PMF and get to scale.
With regular trainings, expert workshops, and a strong community of founders, we surround you with support to help you get from chaos to clarity and create effortless growth.
Increase sales, decrease churn, increase customer satisfaction, speed up time to market, raise more money faster, hire better people, create an incredible culture, motivate and inspire employees, grow fast, scale up, and achieve your ideal exit.
Are you a SaaS founder feeling overwhelmed and unsure of how to take your business to the next level? Scaling a business can be a chaotic and daunting process, but you don't have to do it alone. We have lived the struggles and challenges you're facing, and we're here to help.
If you are:
The Chaos to Clarity Accelerator will help you:
Together, we'll tackle the challenges you're facing and help you achieve your goals. We'll work on your personal development as well as the development of your business.
The Product-Market Fit Engine™
We've created a data-driven, systematic way to achieve Product-Market Fit that will accelerate your growth, save you time and money, create happier customers, and give you confidence, clarity, and peace of mind.
Eric has been an outstanding executive coach who has helped me successfully navigate rapidly scaling an engineering team at a growth-stage tech company. He brings a great balance of empathy, accountability, and an extensive set of tools to navigate a wide variety of challenges on a growing team.
Eric is an absolutely incredible mentor, coach, and friend. If you get the chance to work with him, do it. I truly cannot recommend him enough.

From hiring the best engineering leaders, to building insightful product feedback loops, to building both company-wide and personal habits -- I could not be more grateful to have his help.
Eric has a unique combination of having first-hand experience as a product and technology leader. His perspective and advice were very valuable as we worked to take our product and tech organizations to the next level. If you want to grow as a leader - I recommend reaching out to Eric.
Eric is an exceptional executive coach. It was a perfect fit for me because he has an extensive experience as a CTO. We worked on a vast range of problems from recruiting and team motivation to goal setting and coaching engineering leaders within the company.
The techniques I learned from Eric help me set correct goals and helped me build a practice that enabled focus to achieve those goals. He helped me find tactics that seem small but add up to big change, all from a perspective of empathy, mindfulness, and combating the burnout endemic in startup life. Eric got me more energized with less stress, which means more value for my company and our customers.
Eric is an excellent product strategist who understands the whole ecosystem of product development. The products he works on have a higher chance of succeeding because they are developed with a clear understanding of users and how to meet their needs. I highly recommend him for any organization that needs expertise driving product design.
Eric has a very deep knowledge when it comes to product, UX, and strategy. His coaching has completely transformed the way I approach our product strategy and processes.
Eric consistently provided great insights and ideas and was relentless in his pursuit to continuously improve the way we worked. I would unequivocally recommend Eric to any technology executive.
I have been thoroughly impressed with the wealth of pragmatic, practical knowledge Eric has. I am very grateful for his coaching and would recommend him to any entrepreneur or executive.
Eric has deep experience leading products from ideation to delivery. He is at the forefront of product and technology development.
Having Eric as my executive coach has been more valuable than my Harvard MBA.
I would absolutely recommend Eric to any software development company.
We are currently asking $1500/month with a 6-month commitment.
Book a call now to see if the Chaos to Clarity Accelerator is right for you