Chaos to Clarity Accelerator
Quickly Nail Product-Market Fit and Get to Scale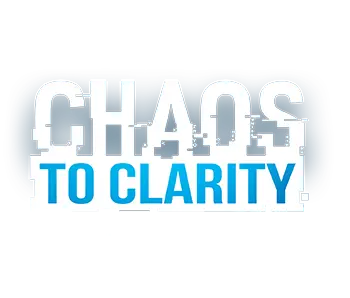 What is the Chaos to Clarity Accelerator?
You're a SaaS founder on a mission to scale and you know that achieving Product-Market Fit (PMF) is the key, but you're stuck in a cycle of confusion, friction, and stagnation, feeling increasingly isolated.
What you need is a guide to help you navigate through the chaos. We provide the essential systems, frameworks, tools, and training that empower you to unlock PMF.
With our support, you can transform your startup from a state of disarray to one of clarity and scalability. Stop struggling alone; let us help you master PMF and achieve the growth you've always envisioned.
Does any of this sound familiar? Are you…
If these are the kinds of "3 AM thoughts" you've been wrestling with, this program is for you.
Picture yourself at the helm of your company, with your team efficiently managing daily operations and freeing you to spend each day on activities that both ignite your passion and move the needle.
Get ready to…
Eric has a very deep knowledge when it comes to product, UX, and strategy. His coaching has completely transformed the way I approach our product strategy and processes.
Eric has deep experience leading products from ideation to delivery. He is at the forefront of product and technology development.
I would absolutely recommend Eric to any software development company.
Eric consistently provided great insights and ideas and was relentless in his pursuit to continuously improve the way we worked. I would unequivocally recommend Eric to any technology executive.
I have been thoroughly impressed with the wealth of pragmatic, practical knowledge Eric has. I am very grateful for his coaching and would recommend him to any entrepreneur or executive.
Having Eric as my executive coach has been more valuable than my Harvard MBA.
Eric has been an outstanding executive coach who has helped me successfully navigate rapidly scaling an engineering team at a growth-stage tech company. He brings a great balance of empathy, accountability, and an extensive set of tools to navigate a wide variety of challenges on a growing team.
Eric is an exceptional executive coach. It was a perfect fit for me because he has an extensive experience as a CTO. We worked on a vast range of problems from recruiting and team motivation to goal setting and coaching engineering leaders within the company.
Eric is an absolutely incredible mentor, coach, and friend. If you get the chance to work with him, do it. I truly cannot recommend him enough.

From hiring the best engineering leaders, to building insightful product feedback loops, to building both company-wide and personal habits -- I could not be more grateful to have his help.
The techniques I learned from Eric help me set correct goals and helped me build a practice that enabled focus to achieve those goals. He helped me find tactics that seem small but add up to big change, all from a perspective of empathy, mindfulness, and combating the burnout endemic in startup life. Eric got me more energized with less stress, which means more value for my company and our customers.
Eric has a unique combination of having first-hand experience as a product and technology leader. His perspective and advice were very valuable as we worked to take our product and tech organizations to the next level. If you want to grow as a leader - I recommend reaching out to Eric.
Eric is an excellent product strategist who understands the whole ecosystem of product development. The products he works on have a higher chance of succeeding because they are developed with a clear understanding of users and how to meet their needs. I highly recommend him for any organization that needs expertise driving product design.
Who It's For & How It Works
Who is the Chaos to Clarity Accelerator designed for?

The Chaos to Clarity Accelerator is built specifically to help early to growth-stage (from Seed to Series-A) SaaS founders find product-market fit and get to scale.
How does it work?

This is an executive forum model (a mix of CEOs, CTOs, and CPOs), with confidential round-table discussions and laser coaching, consisting of 6-8 executives per forum. Once per month, we have a longer session with a workshop, training, deep dive, or strategic planning exercise. Two weeks after this in-depth session, we do a focused check-in to share progress and work to break through any barriers or clear any hurdles.
When are the forums scheduled?

Forums are conducted every other week at 9 a.m. Pacific.
What topics does the accelerator cover?

Each month will focus on a core theme (product-market fit, pricing, customer focus, fundraising, hiring, delegation, etc.), but you're welcome to bring any challenge you have to discuss in the forum.
What if I miss a workshop?

The workshops will be recorded and you can watch the replay at any time.
What support can I get outside of the scheduled forums?

In between sessions, you're encouraged to discuss and ask questions in our private Slack group. You'll also be provided with a calendar link to book a 30-minute 1-on-1, as needed, over the course of the Accelerator.
Can I invite other members of my team?

Anyone from your team is welcome to join/watch the workshops and use the tools, though only one member will be allowed in the forums.
What if I'm not satisfied?

If you are not satisfied with your experience in the Accelerator, you can cancel anytime. We encourage feedback to give us the opportunity to make you happy and get the results you need.
How much does it cost?

Secure your spot for just 1500 a month with a six-month commitment.
Do you take equity?

We do not take equity. This program is a paid monthly membership. This allows you to keep your cap table clean and free of dilution.
Think the Chaos to Clarity Accelerator is right for you? Book your free planning session now.